Nikhil Varagiri's journey into martial arts started through Karate in 2006, he then went on to train in Kalaripayattu at the Hindustan Kalari Sangam, Kozhikode, Calicut, Kerala in 2011, becoming a master in his field he currently teaches this art form professionally.
Kalaripayattu is the world's most ancient martial art. It is the origin of many forms of theatre, dance and martial arts in Asia, such as Kathakali, Theyyam, Kung Fu and many more. The earliest masters of Kalari were inspired by nature and took their forms from eight different animals: The Elephant, Horse, Lion, Wild Boar, Snake, Cat, Rooster and Fish. These postures evolved into styles of combat and contemplation. The practice of Kalaripayattu involves intensive training in combat as well as healing techniques, using the energising potential of human touch.
Since 2013, Nikhil has been teaching Kalaripayattu professionally at Kalarigram Auroville, Tamil Nadu as a resident teacher. He has also been teaching Kalaripayattu to actors at Adi-Shakti, Laboratory for Theatre Art Research. Plus conducting workshops across different cities in India including Chennai, Bangalore, Mumbai, Delhi and Chandigarh.
In 2015, he worked in collaboration with Reunion Island based choreographers Philippe Palen Baldini and Thierry Moucazambo of Water Carriers/Porteurs d'eau on the theatre production "BHU". In 2019 he performed as part of a dance theatre production called "SHAKTI" in collaboration with the International Academy of Mohiniyattam, Delhi and starred in a short film titled "Ten Thousand".
After his rigorous training for 10 years under the authentic and very experienced Kalari Gurus; Shri Lakshaman Gurukkal, Shri Shatugnan Gurukkal and Shri Radhika Gurukkal Nikhil is focused on teaching Kalarippayattu to actors, dancers, children and people from various walks of life.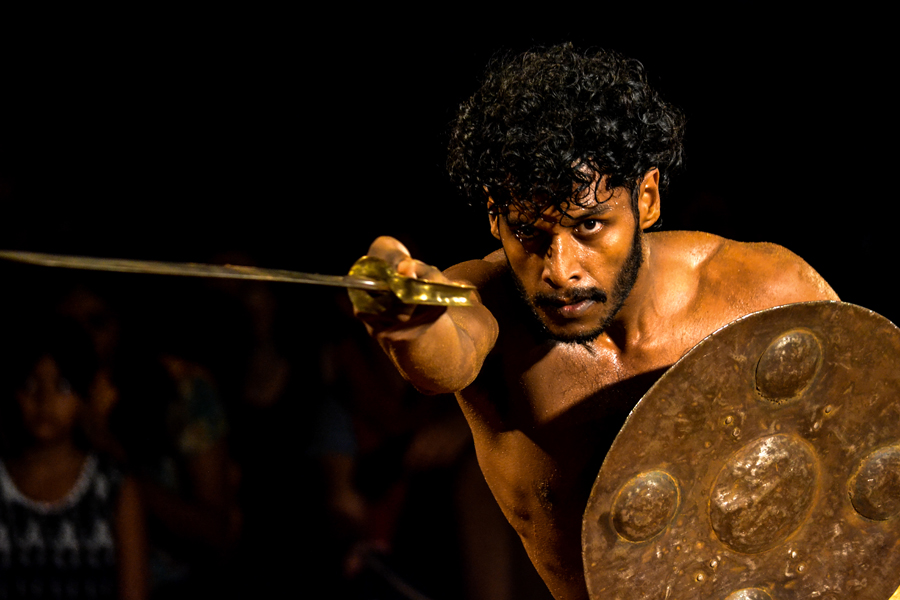 Class Description
In this class we will be focusing on the first stage of training which is;
Mei Abhyasam (body control exercises)
Chuvadukal (basic framework of the body) – There are mainly 4 types of body frame work, which are the basics for the entire Kalaripayattu vocabulary.
Vadivukal (animal postures) – Chuvadukal translates into animal postures. There are 8 different animal postures. Gaja Vadivu (Elephant), Ashva Vadivu (Horse), Simha Vadivu (Lion), Varaha Vadivu (Wild boar), Sarpa Vadivu (Snake), Marjhara Vadivu (Cat), Kukkuta Vadivu (Rooster), Matsya Vadivu (Fish).
Kaalukal(leg swings/kicks) – Leg swings are very important aspects. There are about 18 different leg swing techniques. Among them we shall be exploring upto 10-11 different swinging techniques. Nere Kaal (straight kick), Nere Thiruchi Kaal (straight kick both front and back), Veedu Kaal (circular kick), Kon Kaal (diagonal kick) are the basics.
Meipayattu (complex sequence consists of all the above)- Meipayattu is a very intense sequence of all the kicks and animal postures combined. This is the essence of Kalaripayattu practice.
Kalari Tozhthu (salutation sequence towards kalari tradition).
2. Kolthari (practice of wooden weapons)
3. Ankathari (practice of metal weapons)
4. Verum Kai (empty hand combat techniques).
"This form of physical discipline is believed to be "Shatru Samhara Vidya" which means the practice can help you kill your enemies. Which I mean to say, this practice helps us kill our own inner enemies".